Posts Tagged 'book review'
Reviewed by Dianne Woodman
Case of a Puzzling Book: A Maximo Morgan Mystery by William LeRoy is a tricky mystery told in a uniquely creative format. Readers are immediately drawn into a rollicking adventure set off by the actions of a baldheaded stranger who goes into the Twisted Sister Coffeehouse in the small town of Henryetta, Oklahoma. Popo Crowder owns the coffee shop that includes a free library book exchange with erotic novels and similar literary fiction as part of the collection. The literary works on the bookshelves are regarded with antipathy by Eppie, her twin sister. Eppie is part of a group that "edits" books of an "objectionable" nature. The differing points of view between Popo and Eppie have created a rift in the sisters' relationship, which comes into play in the story.
When the baldheaded stranger takes Lady Chatterley's Lover by D.H. Lawrence and leaves The Same Old Story by William LeRoy in its place, Popo is perplexed as to why words and sentences are missing from pages in the book. Popo hires private detective Maximo "Max" Morgan, whose role model is private investigator Brad Runyon, a character created by novelist Dashiell Hammett. Popo asks Max to look into why The Same Old Story is the target of intentional defacing of parts of the text. Is there more to the case than meets the eye? Will Max figure out who might be responsible for the vandalism and the purpose behind it?
Case of a Puzzling Book is told from three perspectives, with each chapter focusing on one character's point of view. Readers gain a deeper insight into each of the characters' thoughts, feelings, and motivations as they go through experiences in their lives with a common thread that weaves them together. The author's creative use of lingo makes the characters stand out in their behaviors, actions, and mannerisms.
As the story progresses, the case takes many twists and turns, adding layers of intrigue that will keep readers glued to this highly captivating mystery interspersed with humorous moments. LeRoy keeps readers on their toes guessing which one of many reasons accounts for the defacing of pages in The Same Old Story. All the literary works mentioned in the story tie in beautifully with the storyline. The nameless junior high student interacting with Max is a great sidekick. Music symbols representing notes add a nice touch. There are clever analogies of biblical characters with fairy tale and nursery rhyme characters. The author does not include an overabundance of curse words, and they fit the story's tone.
LeRoy has written a mystery with an unexpected twist at the end and an underlying ambiguity as to whether William LeRoy is a fictitious name.
Reviewed by Lisa Brown-Gilbert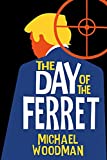 A witty, satirical romp through the political world of the President of the United States, author Michael Woodman's The Day of the Ferret, craftily intersects politics, intrigue, comedy, and a cast of well-devised, skewed characters into a memorable and overall humorous journey into presidential politics.
Aiming for the jugular of this specific political machine, in this case, the presidency of the United States, this is the type of book that you either dislike or love, due to its undeniable relatability to a former president (especially judging from the front cover of the book) as well as some similarities to some of his antics while in office. Personally, I loved the provocative nature of this book and found it easy to laugh at its often-comical moments.
The story starts out with a sarcastic bang as characters are brought into focus beginning with (ahem) President John Thomas Rump.   He's narcissistic, gross and a character that you may grow to have a love-hate relationship with. Moreover, facing low approval ratings, and sexual harassment accusations Rump needs something to alter the public view of him and the answer to his political dream comes in the form of an idea from his lawyer and "yes" man Benedetto Luigi Capone, which involves an intriguing entanglement of characters.   In particular, Eve Coronata is beautiful, intelligent and a former beauty queen looking for some payback when it comes to President Rump . The exchange between the two men is hilarious and sets the tone for the rest of the book.  As well, the additional characters who follow, as the story progresses, offer their own unique personality quirks, issues, and machinations into the fray of this wholly engrossing satire.
Overall, I truly and resonantly enjoyed The Day of the Ferret. It was a gritty humorous jaunt into politics, which while reading often made me laugh or smirk. But most of all, this was a story that showcased (to me at least) the human or inhumane conditions that can be brought on by excesses of political privilege and wealth told in a dark humorous way.  Essentially, ensconced in adept storytelling, and told through characters that were gritty and often morally challenged. Overall, author Michael Woodman brought forth a well-written narrative, replete with seedy politics, plot twists and turns, affairs, backstabs and strange friendships, which ultimately made for a great adult themed read which was very entertaining. This is a definite must add to the "want to read" list.
Reviewed by Daniel Ryan Johnson
Grind Slowly, Grind Small is the second novel by Thomas D. Holland set around Big Ray Elmore, a small-town police chief from Split Tree, Arkansas. You don't have to have read the previous novel in the series, Their Feet Run to Evil, in order to enjoy this gritty crime drama. However, once you have finished reading, don't be surprised if you find yourself immediately looking to get more of Big Ray Elmore in your life.
Grind Slowly, Grind Small primarily takes place in 1960 and focuses on the discovery of some old bones dug up during a construction project. The discovery leads Big Ray on a dark path to uncover the truth and bring justice to the long-dead victim. As one would imagine in a small-town murder case, Big Ray is tasked with investigating people he has known his entire life.
Thomas D. Holland does a superb job of making the reader feel like they are in the room with Big Ray every step of the way as he pursues answers about this mysterious skeleton. The picture painted of a small Arkansas town in 1960 is vivid, and the reader is transported back in time. The characters that Holland creates are well fleshed out and easy to visualize. You can almost feel the summer heat and taste the refreshing iced tea as sweat rolls down your cheek. Read the rest of this entry »
Reviewed by Timea Barabas
If you are looking for an exploratory journey into the many dimensions of gray, look no further than "Black, White, and Gray All Over:  A Black Man's Odyssey in Life and Law Enforcement" by Frederick Douglass Reynolds. The author goes beyond the dichotomy of good and evil – from within an individual, institution, or community – to investigate this precarious and uncomfortable in-between state.
This memoir is not a comfortable read. It is a daring tale that bravely exposes the inner workings of an individual. The book goes even further, piecing together a puzzle of the many faces of humanity painted in blood and gore, but also acceptance, kindness, and love.
Frederick Douglass Reynolds took a circular approach to his life story, starting from his childhood and closing with his golden age, and this embracing fleeting decades of the life of a community. The opening pages provide a closely intimate look into the upbringing of the main protagonist inviting the readers to observe his family life and the community in which he grew up. Read the rest of this entry »
Reviewed by Dianne Woodman
The Sommelier is the second book in The Nosferatu Conspiracy series by Brian James Gage. A synopsis of the first book, The Sleepwalker, provides an excellent framework for readers in this riveting, chilling, and hair-raising tale that is both unsettling and addictive.
German Emperor Kaiser Wilhelm II, the ruler of the Prussian Empire, is working toward world domination and searching for the bottle of Vlad Dracula's blood so that he and his mistress can achieve immortality and conceive a superior and untouchable child personified by evil. Augusta, Wilhelm's wife, has stooped to devious measures in the hopes of stopping the mistress from becoming her successor. Read the rest of this entry »
Reviewed by Russell Ilg
I've reviewed more books by Jon Land than I can count but his latest, MURDER AT THE CDC, stands out for all the right reasons.
And all the wrong ones, too.
That's because the book, completed prior to the January 6, 2021, eerily explores the very mindset that made that chaotic, violent day possible. Not only does the book open with, yes, a mass shooting on the steps of the Capitol Building, it centers around a crazed plot by unified militias and extremist groups to wage what is essentially a second civil war to seize power forever.
Five years ago, we learn in the prologue, a tanker carrying a deadly bio-weapon called the "White Death" seemingly vanished into thin air. Once those contents fall into the hands of an unscrupulous politician eyeing the White House and the powerful offspring of a famed televangelist, all bets are off and a fanatical plot that dwarfs January 6 is underway. We've seen the politician, Senator Byron Fitch, before. It's a classic thriller trope and there's nothing new there. Read the rest of this entry »
Reviewed by Daniel Ryan Johnson
Enough to Make the Angels Weep is an intriguing and well-researched mystery novel. The novel features P.I. Joe Coopersmith as he investigates the murder of his client's grandmother four years prior. However, as his investigation progresses, it becomes clear that this murder is a small piece in a much larger mystery involving the Mexican-American War, a group of Irish-born soldiers known as the Batallón de San Patricio, and a missing diary.
The primary mystery that will keep you turning the pages is not identifying the killer but rather the motivations behind the killing, which can be traced back over a century and a half. Ernesto Patino uses his narrative to shed light on a period of North American history that few people in the U.S. know much about but which is far more well chronicled in Mexico. Read the rest of this entry »
Reviewed by Allen Hott
A short but very interesting one by Dugoni about Tracy Crosswhite, whom Dugoni has written about previously. She is a police officer in Belltown a suburb of Seattle and has been doing a very good job. On this particular night she had spent some time being interviewed by a local newspaper reporter who was doing an article not only about women police officers but those who worked Third Shift.
Tracy worked it because she liked the overall peace and quiet on the latest shift of the day for police officers. And she felt like she was doing a job that needed to be done….policing the streets not only late at night but into the morning hours.
However on this night it became more than just a normal policing of the streets. Tracy got a call to follow up on a call made to the police about a loud argument and what sounded like a major disturbance. On arriving at the scene she finds a woman who had called in and who then told Tracy that a man, woman, and two small girls were in an apartment where the argument was going on. She was fearful for the woman and the girls.
From there the story gets very into the happenings at the scene when Tracy hears where the apartment is located. She heads for that spot after telling the reporter who was accompanying her to stay in the vehicle. Read the rest of this entry »
Reviewed by Lisa Brown-Gilbert
Reaching back in time to the roaring 20's in southern California, author James Stewart's debut work, Mystery at the Blue Sea Cottage, offers a compelling view of the intricacies of an unsolved homicide, the murder of young and beautiful, interpretive dancer, Fritzie Mann.
Based on years of research, this true-crime narrative poses an adept tracing of the history of this once sensationalized murder mystery brought forth through a multi-faceted lens which explores not only the murder but journalistic behaviors, the investigative processes during that era, and a Hollywood sex scandal connection as well as exploring the culture of the time.
Piquing the curiosity from the outset, this work of true crime immediately draws the attention into the fascinating backstory of Fritzie who, for the most part, was a seemingly sensible but "modern" woman in her early twenties who worked to help with her sick sister's medical bills by dancing. However, to her family, there was an air of mystery in her life when it came to her romantic associations, relationships or dating. Read the rest of this entry »
Reviewed by Nancy Eaton
Anna is very happy with her world. She is married to Luis and they have two children. Anna is an associate math professor and Luis is an artist.
Anna has been working with Alex, one of her students, on solving a math problem. They are both convinced that this is going to change their lives. Something went terribly wrong when Alex is found dead. Was it suicide? Was it murder?
When Anna heard about Alex's death, she desperately wanted to talk to Luis. She called him several times but got no answer. She went to his studio and he was not there. However, she did see two wine glasses. Was Luis having an affair? When he returned home and she asked him where he was all evening, he told her he was at the studio. She knew he was lying.
Anna accompanies Luis to one of his art exhibitions. It is here that she realized what was going on. She could see how taken Luis seemed to be when he looked at Isabelle. She now knows that her fears about an affair are true. Anna decides to confront Isabelle. What happens is shocking! Read the rest of this entry »